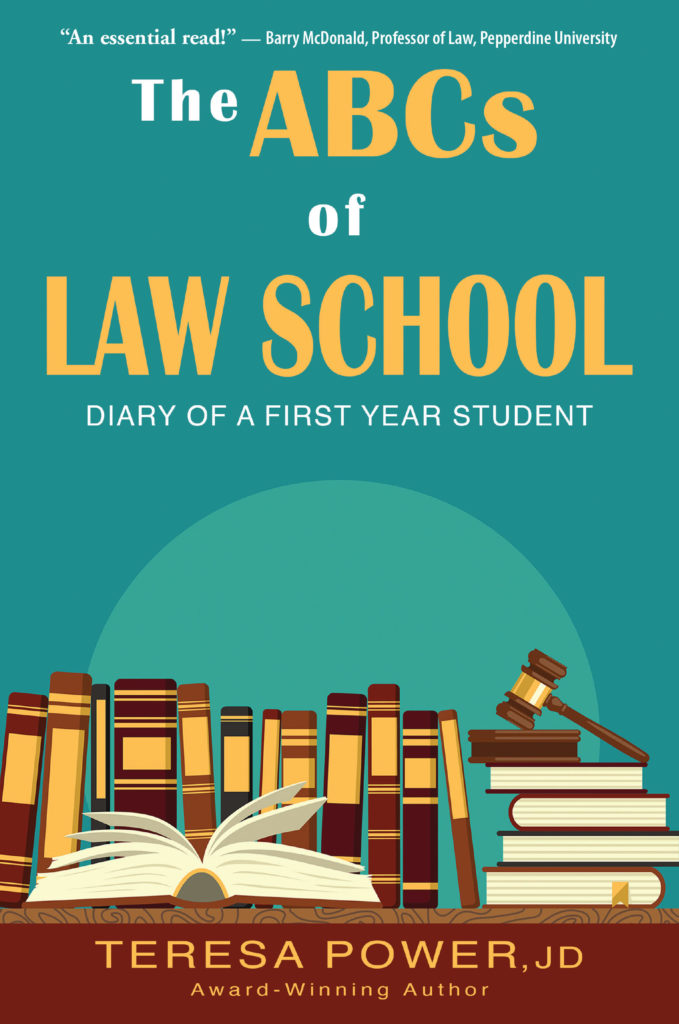 Buy the Book:
Amazon
Barnes & Noble
Books-A-MillionPublished by:
Stafford House
Release Date:
May 1, 2019
Pages:
360
ISBN13:
978-0998107073
Overview
The ABCs of Law School: Diary of a First Year Student is the newest book by bestselling, award-winning author, Teresa Power, J.D. It offers exclusive access into the inner workings of law school, as told by an actual student.
By using the ABCs to de-mystify law school, you'll feel calm, confident and ready to conquer your studies. "A" covers the law school application and admission process, "B" goes behind-the-scenes of your first year, and "C" offers invaluable class outlines and other survival skills, including how to use yoga for stress reduction.
This easy to read guidebook provides a concise overview of the major core topics covered, as well as strategies on how to prepare for class, study for exams, and manage stress. Perfect for anyone considering, starting, or in law school!
A must-have reference, The ABCs of Law School: Diary of a First-Year Student is your secret weapon to getting the edge over your classmates and getting the most out of law school.
Add on Goodreads
---
Praise, Testimonials, & Awards

2019 Independent Press Award, Distinguished Favorite
2019 Next Generation Indie Book Awards, Finalist
"Worthy tips, tricks, and tools for prospective law students delivered in concise prose.  Power.. now presents a handy manual aimed at those who want to go to law school and wish a leg up on the competition. Framed as a diary based on her days as a law student at Pepperdine University in the 1980s, the author updates her recollections with approaches, research, and tools to suit today's burgeoning interest in legal studies. The colorful diary portions convey the emotional challenges of law school, but these entries merely contribute to the detailed overview of the first-year courses that constitutes the book's major emphasis... She goes on to provide key tools, such as the IRAC (Issue, Rule of Law, Analysis, Conclusion) method, that further students' understanding of how to assess a particular case... In addition to torts, the guide covers legal research and writing, contracts, civil procedure, evidence, and real property, criminal, and constitutional law in a plain, reader-friendly style. Power began practicing yoga to alleviate stress in her law school days. At the very end of the book, she includes a five-minute yoga routine for law students—with simple black-and-white images by debut illustrator Mundja... The manual also features a number of helpful course outlines in appendices."
-Kirkus Review
"Exceptionally well written, impressively informative, extraordinarily well organized and presented, The ABCs of Law School: Diary of a First Year Student is unreservedly recommended for community, college, and university library collections. The ideal introduction and explanation of what attending law school encompasses and a 'must read' for anyone contemplating applying for law school, it should be noted for the personal reading lists of students and non-specialist general readers with an interest in the subject that The ABCs of Law School is also available in a digital book format." - Midwest Book Review
"The ABCs of Law School is an essential read for any person thinking about going to law school, or desiring to be prepared to excel in law school once he or she gets there. Teresa Power does an outstanding job capturing the important basics of the first-year law school experience, and communicating them in a very clear and engaging way. You will be very pleased that you read this superb law school primer, and feel that you have a "leg up" as you embark on a very challenging but rewarding adventure."
-Barry P. McDonald, Straus Research Professor of Law, Pepperdine University School of Law
"I had always assumed that applying to law school would be largely similar to the university application process I had successfully navigated nearly four years ago, but as I begin to consider where I might apply, what I'll need to assemble for a competitive application, and whether or not I even wish to attend law school at all, I cannot help but feel overwhelmed by the vast amount of mostly useless information out there. Articles online are either not relevant or too specific, and limited workshops fail to be broad enough in scope to address my needs; Teresa Power's The ABCs of Law School is the only resource I've found that provides a truly comprehensive picture of law school, carefully detailing everything from the application process to essential study habits and the first year's course material. Thanks to Teresa's book, I'm now equipped with a basic understanding of torts, civil procedure, legal research, and how vital my personal health is to my academic success—to say that this book gives me a competitive advantage would be an understatement at best, and, at worst, a monumental overlooking of Teresa's sharp prose, deft organization, and years of honest experience. Whether you are merely considering law school, currently working on applications, or already in your first year, there is no better resource for prospective law students than Teresa Power's The ABCs of Law School. If I make it through these next three years, I'll know exactly who to thank."
-Kenneth Schrupp, University of California, San Diego, Class of 2020
"Genuinely honest and insightful, Teresa Power's The ABCs of Law School is a must read for anyone navigating the murky waters of 1L. Move aside daunting treatises and classroom intimidation, the ABCs straightforward approach to breaking down the law through detailed outlines will make your 1L experience a breeze and classmates enviable!"
-Taylor Magnuson, 2L at UC Berkeley School of Law
"If I was a law student, this is the book that I would want to read to make it to year two. It is a thorough look at exactly what you need to be successful in law school, all the way down to yoga poses to stay less stressed." -- Judge, 27th Annual Writer's Digest Self-Published Book Awards
---
Backstory
Ever since I was young, I dreamed of being an attorney, helping others solve their problems and making a difference in the world. But, dreaming of being a lawyer and becoming one are two very different things. I wish that I'd had a guide like this when I cluelessly embarked on my legal adventure.
Fast forward past law school, to real life. After practicing law for several years in the areas of Real Estate and Personal Injury/Insurance Defense, I decided to press pause on my law career and become a stay at home mom. I was at a crossroads on my life journey. I wanted to be with my two young children; yet I still yearned to make a difference in the world and help bright students find their place in the legal profession. I've always loved writing and teaching, so becoming an author was a natural progression.
During my legal journey, I started taking yoga classes to help me unwind from the stress of law school and, eventually, from the practice of law itself. Yoga helped me to relax, focus and concentrate, as well as to sort through my priorities.
After my children were older, I became a yoga teacher, and eventually an author and publisher of children's yoga books, leaving this project on the back burner. Recently, I unearthed the manuscript for what would become "The ABCs of Law School" and was struck by its value; so, I decided to once again take a leap of faith and change my life direction.
My aspiration is to open your mind to the inner-workings of what the law is all about and help you not only survive, but thrive.
---
Excerpt
Trailer